Haven't had much time at the bench over the last couple of weeks, heavy work deadline caused a bit of a frenzy. Anyhow, deadline smashed and time to claim back the weekends, lets head to the shed... An awful lot of bits and bobs to do, I painted the base coat and shadows of the flesh tones on the tank commander, all looking a bit to orange here but once the highlights go down think he will look less sun burnt. Started to work on the stowage and put a few colours down. Mixing it up between sand tones and greens to try and add a little contrast, really don't want this to look like one big lump of stuff.
Painted the inside of the hatches on the turret interior white, looking very bright at the minute but once they get some weathering they will knock right back.
Sprayed the hull and turret with desert sand wash, will wait for this to dry and then with a cotton bud start some streaking. The plan was to flood it so we get some build up on those raised areas. Will work on his a bit more for effect and then I will start to fix the stowage before introducing the pigments and dust effects. Think this will work better once the stowage is on and hopefully simulate dust build up from traveling. For the front I have some sand bags but did have to sand and cut to get these to fit snugly but think I have it about right now.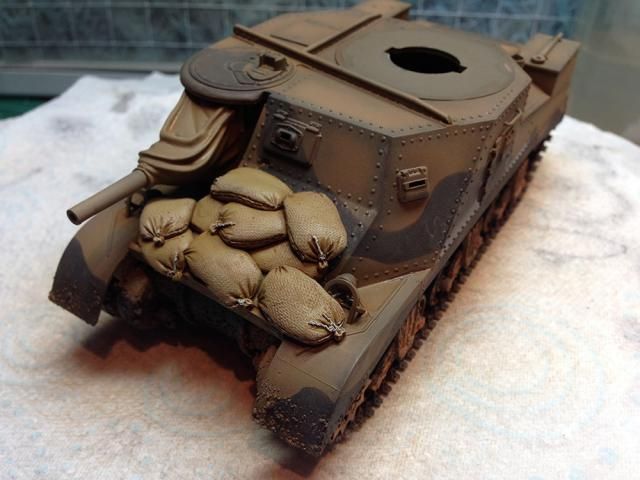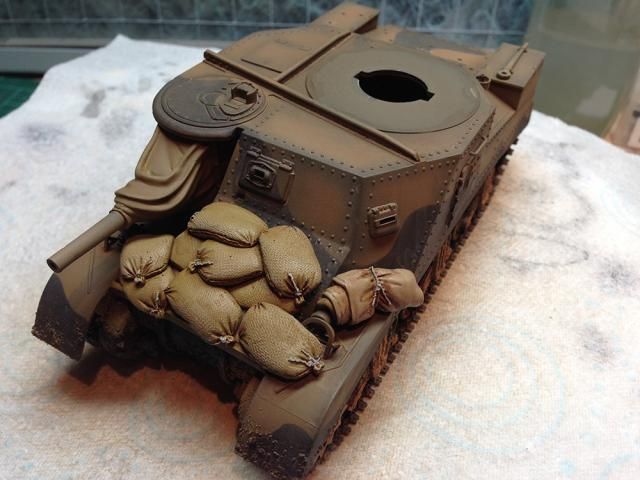 Need to get to work with a little streaking now to break up the flat surfaces but quite happy with my progress so far. My photo's look a bit on the dark side today so will try and take some outside later if it stops raining. Should be back at the bench today at some point so hopefully will be able to post some further updates later...
Thanks for looking...